Something about dinosaurs just fires the imagination. Toddlers gravitate to them, preteens crave them, and even teens and adults can't get enough of them! There are dinosaur pajamas, dinosaur TV shows, dinosaur toys, and now, here are some great dinosaur apps for all ages and stages. Enjoy!
Dinosaur Games for Toddlers and Preschoolers
Little Dinos – Dinosaur Games for Kids and Toddlers
Planet Factory Interactive – Free with in-app purchases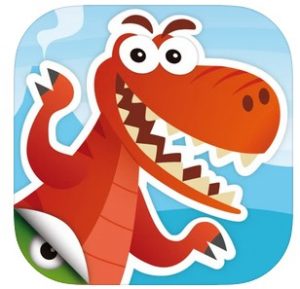 Here are 8 dinosaur games wrapped up in one app, each with a range of levels for toddlers and preschoolers. Little ones can have fun with the friendly dinosaurs as they paint, play, and imagine. They also will have some fun practicing important skills like "find the difference", visual memory, spatial organization, and observation skills.
Little Dinos – Dinosaur Games for Kids and Toddlers is free to download and comes loaded with content right off the bat. You can add new games and levels for $1.99 each, or grab everything for your dino-loving little one for only $3.99.
Dinosaur Train A to Z
PBS Kids – $1.99 with in-app purchases
This app is a companion to the popular Dinosaur Train show on PBS Kids. 26 different dinos introduce letters and early reading skills. Kids can feed the dinosaurs, look at their x-rays, and learn over 50 cool dinosaur facts.
Parents can add to the fun by purchasing packs of additional dinosaurs, like Carnivores or Water Dinosaurs for ninety-nine cents each, or can grab an ultimate pack for $4.99.
Dinosaur Games for Kids and Toddlers 2-4 Years Old
Amaya Kids – Free with in-app purchases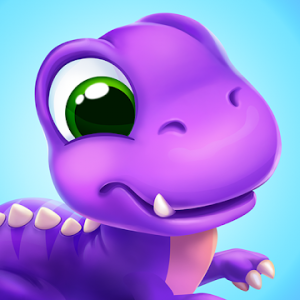 Young children are in for a real treat with this app – they can free the dinos from blocks of ice, then put them into their very own dinosaur park! They can feed them and bring them delightful gifts. The first two dinosaurs are completely free, and six more are available as in-app purchases. The app includes educational games as well as a selection of child-sized dinosaur facts to help youngsters learn all they want to know.
The app features colorful graphics and child-friendly controls. Each new dinosaur costs $2.99 so you can easily add to your child's collection. In addition, children can play offline once the game is downloaded, which can be a real plus.
Dinosaur Math – Math Learning Games for Kids
Yateland – Free with in-app purchases
Dinosaur Math is an intuitive, hands-on look at early math concepts such as counting, simple addition, and simple subtraction. No literacy is required, just readiness to have fun! The activities are adaptive, starting out easy and gradually increasing in difficulty as your child shows readiness. There is also a learning report for parents, so you can see just how your youngster is doing.
This app does not require an active internet connection. Over 500,000 users have downloaded it! The in-app purchases add options and features to the game and cost between $4.99 and $12.99.
Dino Puzzle – Free Jigsaw Puzzle Game for Kids
App4Kids – Free with in-app purchases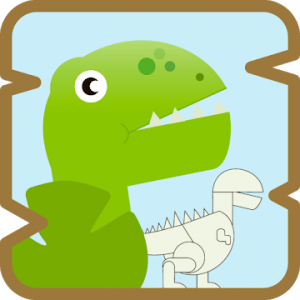 Play with your little ones to build spatial skills, logic, and fine motor dexterity. These dino puzzles are perfect for the toddler/preschooler crowd because they feature everyone's favorite creatures. Twist, turn, and drag the colorful shapes to their correct spots to build beasts.
This app is free to download. Additional puzzles are available as in-app purchases of ninety-nine cents each.
Dinosaur Games for Kids
Triceratops Gets Lost – Smithsonian's Prehistoric
Oceanhouse Media – $1.99 iOS/$2.99 Android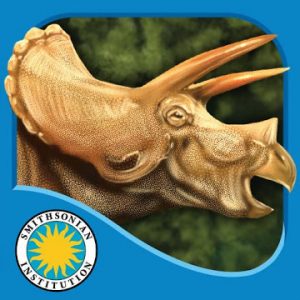 Dazzle children with this great ebook from the experts at Oceanhouse Media, who are well-known for their high quality apps for kids. This app is the perfect dinosaur offering to help bridge the gap between little kid dino fun and apps more suitable for older tweens. Kids can follow the baby Triceratops through the prehistoric world, add their own narration, and more.
The app does include robust parental controls, so you can rest assured that your kids are safe when they use it. There are no ads and no in-app purchases, either.
World of Dinosaurs
World of Dinosaurs – $2.99 with in-app purchases
This amazing interactive dinosaur app will satisfy even the strongest dino cravings of elementary students and older kids. The high-definition landscapes can be rotated and zoomed, allowing close inspection, and the sound effects are out of this world! There are even five dinosaurs that will pop into the real world, thanks to the magic of AR. Kids can learn about dinosaur anatomy, intelligence, and much more as they explore this app.
There are in-app purchases in this app, ranging from ninety-nine cents to $19.99. Each will add still more dinosaurs to the collection and expand your child's knowledge.
Dinosaur Zoo
Itiw – Free with in-app purchases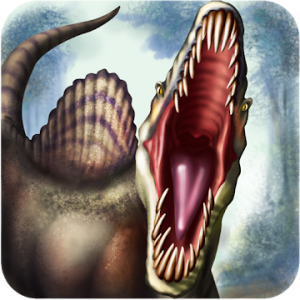 Preteens will love this app that puts them in charge of building their own dinosaur zoo. There is a little bit of fantasy violence, so if your child is sensitive, you might want to prescreen the app. Zookeepers can build and stock their zoos, cross-breed the animals, and even visit zoos that belong to friends. With 105 dinosaur species to unlock, there's fun for a long time to come.
Dinosaur Zoo is a fun role-playing based game. Players can make lots of different improvements to their zoos, collect money from visitors, and more. Enhance the game further with in-app purchases ranging from ninety-nine cents to $99.99.
Ginkgo Dino: Dinosaurs World Game for Children
Mariya Stavinskaya – Ninety-Nine Cents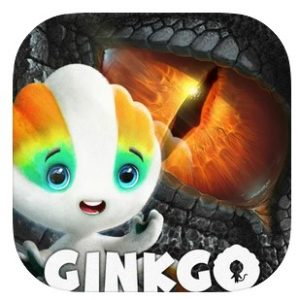 This award winner will quickly rise to the top of your child's favorite list. It's perfect for your science-lover because it includes an educational game that will lead them on an adventure through the prehistoric as well as a dinosaur encyclopedia to satisfy their quest for dino facts.
The app is intended for elementary-aged children. It has no in-app purchases or outside advertising, so your young explorer can check out all of the features in complete safety inside the app.
Monster Park – AR Dino World
Vito Technology Inc. – Free with in-app purchases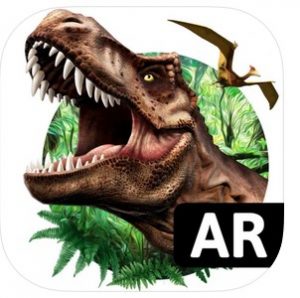 Bring the dinos right into your world with the help of AR technology! The realistic-looking dinosaurs can be scaled up or down, and controlled by each user. The app also includes a multi-player feature where users can use multiple devices to interact with each other in virtual reality.
Monster Park also opens up a wealth of possibilities for creative fun with photos and videos. Kids will be able to let their imaginations run wild, dreaming up new colors and patterns for dino skins, and much more. In-app purchase options add more monsters and other items for prices ranging from ninety-nine cents to $2.99.
Dinosaur Games for Teens and Up
Running Dinosaur Adventure Game
Athiphat Tiahong – Free
Do you have a dino-lover who also enjoys platforming games? Check out this dino version of the classic format! Kids can run, jump, and hunt for stars and coins as they pass through the levels. It will take coordination and skill to avoid the many dangers and pitfalls in the game such as falling rocks and mushroom thorns.
This game is free to download and play. It's sure to keep your young gamer occupied for quite a while as they move through the various levels trying to beat the highest score!
Real Dinosaur Maze Runner Simulator2020
The Game Empire – Free
Think your skills are up to the challenge of taking a dinosaur through a complicated maze? Think again! Test your talent against devious mazes while you try to keep your dino alive long enough to reach the goal. Open up new levels with each maze you conquer. It will be tough to put this one down.
The game includes multiple dinosaurs to control, maps of the mazes, and two exciting game modes. It's free to download and to play.
Dino Hunter: Deadly Shores
Glu – Free with in-app purchases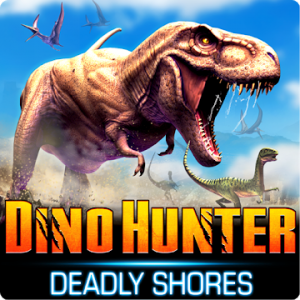 In the spirit of Jurassic Park, players can journey to Jurassic Island and hunt the out-of-control dinosaurs. But be careful! It won't be long until the hunters turn into the hunted if the dinosaurs have their way. You'll need to find the powerful weapons as you explore scenes like the shipwreck coast and the dinosaur boneyard. Fans of games like Deer Hunter will love the shooting challenges and the wide variety of weapons available.
Dino Hunter: Deadly Shores is free to download and play, but it does include available in-app purchases to enhance the game. The prices range from ninety-nine cents to $123 per purchase. The game is rated T for Teen, as well.
Carnivores: Dinosaur Hunter
Tatum Games, Inc. – Free with in-app purchases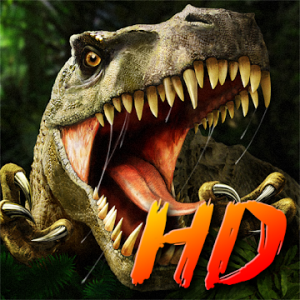 Here's a winner for everyone! You can enjoy the great 3-D graphics and amazing sound effects as you explore a distant planet full of dinosaurs. The game has two modes- Be a mighty hunter and try to kill them, or be a nature photographer and try to document them. Either way, it's full of danger and adventure, and the challenge is just to stay alive. There's a trophy room, and even an option to use tranquilizer darts instead of bullets in your quests.
Carnivores: Dinosaur Hunter is part of a series of dinosaur apps that you might want to explore. This one is free to download and includes in-app purchases priced from $1.99 to $49.99 to enhance the game. The app is rated T for teen.
Bonus Dinosaur Fun!
Check out these great dinosaur coloring pages for kids!
Looking for a fun dinosaur storybook for little ones? Try Millie's Crazy Dinosaur Adventure.