We Reviewed Dozens Of The Best 1st Grade Apps So You Don't Have To. Here Are Our Top Picks.
We've searched far and wide to find the top first grade apps for iphone and android. The good news is that there are plenty of fun and challenging first grade apps as well as some great teaching, reading and math apps too. Want the best first grade apps for kids? Start here.
Best Apps for Back to School – 1st Grade
First graders are learning loads about reading, writing and math skills. They also are discovering more about themselves and their world through science and social studies. School gives them great opportunities for learning, but sometimes their curiosity can take them even farther. They also need extra practice on the crucial skills they are developing so they can keep up with their peers.
These apps represent some of the best around for first graders. You'll find a wide array of apps that are fun and practical. Here's our reviewed and recommended apps for 1st grade develop literacy and numeracy skills, place value concepts, geometry, thinking and logic skills, cause and effect skills, and more.
Take a look at these apps.
Best 1st Grade Apps
ScratchJr

Price: Free
iOS App Store / Google Play Store
ScratchJr is a hands-on learning environment that allows young children (ages 5 to 7) to learn the basics of programming with a visual interface. It encourages and builds a host of vital skills, including problem-solving, organization, sequencing, and self-expression, in addition to building creativity. It's designed to introduce the very young to basic concepts in computer programming.
The app is child-friendly and easy to use.
Inventioneers

Price: $4.99
iOS App Store / Google Play Store
Each chapter of Inventioneers presents a clear problem, such as moving a cat from the tree into its owner's basket. The interface is intuitive, allowing nearly anyone the ability to experiment and create until the problem is solved. A resource bank of invention parts and small "helper" characters is provided at the bottom of the screen, and users must arrange them to accomplish the given goal.
There are 8 chapters with 120 inventions to puzzle out.
Code Adventures

Price: $3.99
iOS App Store / Google Play Store
Programming for Kids is a great app that will nudge users along the path to better understanding how computers work and how to be meticulous in giving step-by-step instructions. The app sharpens logic and builds problem-solving skills through puzzles and play. Kids will learn about order of operations, functions, lists and more.
Gruffalo: Puzzles

Price: $2.99
Extend the classic story of The Gruffalo with Gruffalo: Puzzles, an app full of different puzzle games for kids. The app includes 6 character-led games with 18 levels. There are memory games, painting, mazes, and more.  Join Gruffalo, Snake, Fox, Mouse, Owl and all of your favorite characters for fun and excitement in this app.
Care for Our World

Price: Free
Inspire kids to cherish the world they live in by reading and interacting with Care for Our World, a beautiful narrated ebook for kids. Kids will discover diverse environments and learn about the animals that call them home. There are loads of interactions, and even some spots where kids can color. Kids can also create custom habitats with selected backgrounds and animals, then save their creations to the photo stream.
The app makes a great supplement to teaching about ecology.
Fregger's Play: Learn to Code in 3D

Price: Free with in-app purchases
iOS App Store / Google Play Store
Help kids learn to code and encourage them to create their own games with Fregger's Play: Learn to Code in 3D. They can tell stories, build or make games. There are three different types of backgrounds, 5 types of pets, and loads of characters to get creative with. The free version includes 4 complete sets with unlimited figures and items.
The app is free to download. There are in-app purchase options to get additional sets for $1.99 each.
Pili Pop Francais

Price: Free with in-app purchases
iOS App Store / Google Play Store
Kids can learn French through fun games and an immersive language approach with Pili Pop Francais. The short, 2-minute activities fit into any child's schedule. They are designed to motivate kids to speak French on a daily basis. Subscribers also get new activities monthly. There are two free themes included with the app.
Additional content is available through a subscription. A monthly plan is $9.99, a six-month plan is $39.99, and an annual subscription is $59.99.
Story Starters

Price: $2.99
Story Starters offers a nearly limitless supply of stimulating prompts to set writing off on the right foot. Everyone from students of all ages to professional writers will benefit. There are 23 different types of activities, 50 detailed and intriguing photographic images, and more. Try your hand at making a Story Mountain, or take up the challenge of a 60 second story. There are also 80 different chapter titles and even more newspaper headlines to spark the imagination.
The app is a sure-fire cure for writers block for almost anyone.
Pepi Super Stores Lite

Price: Free
iOS App Store / Google Play Store
Let kids explore the mall on their own along with a host of different characters in Pepi Super Stores. Kids can check out the juice maker by tossing in fruits for the expected outcome. They'll be surprised when they try to toss in other things- the results range from ridiculous to amazing. Each store and service in the mall has an opportunity to try a new activity.  There are 34 playable characters, too.
This app is free to download.
Let's Go Lex! – Interactive Tale

Price: $2.99 on iOS App Store; Ninety-nine cents on Google Play Store
iOS App Store / Google Play Store
Travel down the river with Lex the hippo and her froggy friends in Let's Go Lex!, an animated story app for kids. This ebook features animations and interactions that will delight your child. The story of the three unlikely friends is delightful and entertaining, and even after the story is done, there's more to do. Try the puzzle at the end and get a wonderful surprise when it's done.
KidsCast – Watch, Play & Learn

Price: Free with in-app purchases
Kids will always have new content with a monthly subscription to KidsCast, an app full of games, books, and shows. It's like having a library in your pocket. Kids can watch television shows, color pictures, read books, and play games. There's something here for nearly everyone, and best of all, it's kid-safe and easy to use.
This app from Great Britain offers one week free as a trial, then you'll need to subscribe.
Sight Words Learning Games & Reading Flashcards

Price: Free with in-app purchases
iOS App Store / Google Play Store
Learning sight words, those common first reading words that don't usually follow the phonics rules, is a big part of first grade reading. Help kids learn sight words through a series of six fun games with Sight Words Learning Games & Reading Flashcards. The app includes 6 engaging games, and covers 220 words from the popular Dolch List.
The app is free, and a $3.99 in-app purchase will unlock all the rest of the games.
Math Bakery 1 – Start Counting

Price: $3.99 on iOS App Store; $2.99 on Google Play Store
iOS App Store / Google Play Store
Here's a great app to reinforce counting and simple addition. The app offers 6 addition games and 6 subtraction games. It uses manipulatives to help children gain a true understanding of the math concepts. It includes a two-player mode, and also introduces children to terms like half and double.
Math Bakery 2 – Continue Counting

Price: $3.99 on iOS App Store; $1.99 on Google Play Store
iOS App Store / Google Play Store
Math Bakery 2 – Continue Counting is a fun app that does a fine job of introducing and providing practice with larger addition and subtraction problems that require regrouping. The app shows kids how to use column addition and subtraction to work with numbers up above 100. There are 14 games, and the numbers go up to 999.
Poppetto Costumes

Price: Ninety-nine cents
iOS App Store / Google Play Store
Poppetto Costumes is a challenging and entertaining collect and match game that will sharpen players' grasp of strategy, their observation skills, their memory, and their logic. It's fun! There are 2 theme sets: costume and party with 16 sets of clothes in each theme. The app's games have 3 levels, too, so there's a lot to see and do.
Super Spelling

Price: $3.99
Help kids learn to spell 400 new words with Super Spelling, a fun spelling game for kids. The app includes 9 levels that start out easy and gradually become more difficult. The app also has some built-in help and hints that make it useful for children with special needs, like dyslexia or autism spectrum disorder.
Tongo Music – for Kids

Price: $2.99
Tongo Music-for kids and families is a shining example of a high-quality, valuable app that is both beneficial and fun. It's suitable for the whole family (including the very young). There are 12 animated musical instrument movies and 15 high quality samples from classical pieces by famous composers. Kids can try out percussion instruments and an interactive piano keyboard. They'll even learn a bit about music notation, such as recognizing notes and the treble clef.
RelationShapes

Price: Free
iOS App Store / Google Play Store
Interact with shapes and build logic and visual-spatial skills with RelationShapes, a creative shapes app for kids. They will do matching puzzles, make shape pictures, and work their way through 8 levels of increasing shape challenges. The app will accommodate 4 user profiles and includes a parent area where progress can be monitored.
It will help build a foundation for understanding of geometry.
Tara's Locket – a VR Story for Children

iOS App Store / Google Play Store
Read a story in a new way with Tara's Locket, a virtual reality app, which allows children to tag along with Tara on her journey to find her family. The app is set on the Atlantic coast of Ireland and includes some beautiful scenery. Along her quest, Tara learns some important lessons about believing in herself.
This app is best with Google Cardboard or other mobile virtual reality headset. It does,  however, include an option to play without a VR headset at all.
The Tune Zoo

Price: Free
The Tune Zoo is a fantastic music app that is highly versatile and enjoyable. It allows users to design and even record unique musical creations across a wide range of styles and types. Magical creatures teach the fundamentals of music in a delightful hands-on style that kids will love. It's got tons of powerful tools, like loops and key changes, and even allows for multiple players.
An Adventure of Our Own

Price: Ninety-nine cents
An Adventure of Our Own offers a unique adventure story that encourages kids to communicate with one another. This ebook needs a partner: parent or other mentor. The two players will create an interactive adventure together. They can choose the elements, backgrounds and more. It even features a photo op where you can costume yourselves. Add sounds, props and more to make a unique story each and every time.
The app has a solid rating on the App Store.
Toca Hair Salon 3

Price: $3.99
iOS App Store / Google Play Store
Kids are in charge of the hair salon in Toca Hair Salon 3. What crazy hairstyles will they create? This app features hair that moves and looks like real hair. It even has an option for kinky hair that can be made into 'fros and other styles. There are styling tools galore, too. The characters can change clothes and styles as often as your child wants.
Wonster Words Learning Games

Price: Free with in-app purchases
iOS App Store / Google Play Store
Build your child's spelling and vocabulary skills through fun games and silly animations with Wonster Words. This phonics game covers the basics of the ABCs as well as blends, vowel teams, and more. Silly animations and puzzles bring home the meaning of each word. This app is great for first graders, and also very useful for children who need a bit of extra practice with language skills or those who have special needs.
The app is free to download and try for 7 days. After that, you'll need a subscription that costs $7.99 per month or $59.99 annually.
Pocket Sight Words

Price: Free with in-app purchases
Pocket Sight Words provides a simple and effective way to practice recognition of 220 sight words from the Dolch List. Short sentences, appropriate for beginning readers, provide context and practice for each word. There are also over 500 sounds and narrations to help kids learn on their own. They'll also enjoy the built-in minigame that adds interest and fun.
This app is free to download and try. An in-app purchase of $1.99 will unlock all of the levels.
Animalia Education – Libraries

Price: Free
Kids learn a lesson by reading through the story and playing the games in Animalia Education – Libraries. The app is based on Graeme Base's amazing print book Animalia. Kids can enjoy the fabulous artwork and some mini games to bring the story to life. It even includes a new animated story called "The ABCs of Flying" that is a real treat.
Toca Life: Farm

Price: $3.99
iOS App Store / Google Play Store
Kids get to run the farm any way they choose with Toca Life: Farm. They can gather eggs, milk the cow, and raise the crops. They can even tinker with the tractor to make it better and use the machine to turn the crops into food. There's an in-app recording feature, so kids can make a video of the story each time they play.
MeteoHeroes – The Adventure Begins

Price: Free
MeteoHeroes is a fun app that features child characters that discover they have weather-related super powers as they train and prepare to take on world-wide meteorology problems. The six learn to master their newfound powers and turn into super heroes with the power to do things like fling lightning, puff up clouds, or make it rain or snow. Together they discover how to create and maintain beautiful natural environments. Once training is over, the kids will take on some real challenges!
Kids will learn tons about weather related phenomena and find out how weather works.
Kidjo: TV for Kids

Price: Free with in-app purchases
iOS App Store / Google Play Store
Let kids watch fun and educational videos in a safe environment with Kidjo. Parents can set up a maximum of three different profiles with specific limits and guidelines on each. They can limit screen time, too. There are over 1500 videos, sing-alongs, tutorials, cartoons and more on Kidjo, all carefully curated to make sure everything is child-friendly and safe. It's a good option if you want to allow children to watch on a mobile device on their own.  It's even got an easy-to-use offline mode where content can be downloaded in advance for later viewing.
Kidjo is free to download, but it does require a subscription to use after the trial period.
Car Factory Spelling

This app is great for getting kids to practice their weekly spelling lists from school. Parents or teachers can enter words, record their pronunciation, and even add a sentence if they wish. Kids choose their car parts in the factory, and at every step along the assembly line, they have to go practice the words. There are three levels – putting letters in place with hints, putting letters in place without hints, and spelling the word from memory. The game is adaptive, so it will only advance when your child has demonstrated skill at each level. Once the car rolls off the assembly line, there is a cool race to enjoy before making the next car.
HOMER Reading: Learn to Read

Price: Free with in-app purchases
HOMER is a fun and interactive reading app that will help first graders with early literacy skills such as phonics, sight words, and comprehension. There are thousands of lessons and over 150 printable worksheets. The app is perfect for preschoolers through grade 2, so it can grow with your child.
The app is free to download and requires a subscription of $7.99 per month to keep up to four separate profiles.
Jungle Time

Price: $2.99
This app features a multi-lingual talking clock that will help first graders learn to tell time. There are three modes- a practice clock, a standard clock and a classical clock with Roman numerals. The clock hands move realistically so kids can set the clock just like they would on a real timepiece. There are tutorials for beginners and multiple levels, including problems with two clocks to calculate elapsed time.
Guess the Code!

Price: Free
iOS App Store / Google Play Store
Learning to see and duplicate patterns is a critical readiness skill that is important for math understanding and even for learning to read. This app helps kids practice. This codebreaker game is in the tradition of Mastermind, the classic board game. It has a range of configurable difficulty levels, so you can set things up to be at just the right level of challenge.
Word Wizard for Kids School Ed

Price: $7.99 on iOS App Store; Free with in-app purchases on Google Play Store
iOS App Store / Google Play Store
This app has loads of features that make it ideal for emergent readers. Kids can build their own words using letters as they experiment with phonics- the app will pronounce anything pronounceable. It offers both capital and lower case letters, as well as digraphs and other advanced tools. There are 3 levels of spelling activities using 200 word lists (around 2000 words all together). Word lists include the Dolch words and the Fry Instant Words.
The Android version offers in-app purchases ranging from ninety-nine cents to $224.99 per item.
Sentence Builder™ for iPad

Price: $7.99 with in-app purchases
Sentence Builder for iPad teaches children how to construct grammatically sound sentences as they speak and write. It features 100 different pictures to stimulate sentence construction and 60 reward interactions and animations to help kids stay motivated. It keeps records of children's performance, too. This app is great for young children just starting to work with words, and it's very helpful for children with special needs.
The app has optional in-app purchases of teen modules for $4.99 each if you wish to use it with older students.
Cargo-Bot

Price: Free
Here's a coding app that has players teach a robot how to move crates. It sounds simple, but the puzzles are absolutely fiendish. The app teaches logical thinking, coding skills, and problem solving. It will challenge kids' brains while keeping them engaged and learning.
The app is free, so why not give it a try?
Barefoot World Atlas

Price: $4.99
This gorgeous app will intrigue and invite children to learn about the countries and cultures around the world. They can listen to facts and learn about the way people live in other places. It also includes information about physical features, like oceans and mountains. It's a great resource that will grow with your child for years to come.
Princess Fairy Tale Maker

Price: Free
This award-winner offers 32 background scenes to start the story off, and over 190 stickers, characters, and objects to add to the scene as the story progresses. Kids can even make the characters' mouths move by tapping on them. There are dozens of crayons and colored pencils to add unique creative touches, too. Kids can narrate their stories using the self-record feature, and best of all, the app has ANIMATED SPARKLES!!
This app is from Duck Duck Moose, so you know it's high quality.
Me: A Kid's Diary by TinyBop

Price: $3.99
This children's diary gives kids everything they need to tell their own story in words, pictures, recordings, and more. It's designed with young children in mind, and there are features that will appeal to first graders as well as older kids. The app allows kids to create a personalized avatar, record their feelings, and even use pictures from the photo stream. It has all the tools needed for self-expression and then some.
Lola's Math Train – Learn Numbers and Counting

Price: $4.99
First graders will have a ball with Lola on this math train. The activities will help children build important math skills like counting, addition, and subtraction. There are 19 exciting games and a parent progress tracker so you can see what your child has been up to. There are also several levels of difficulty, and the app will advance automatically when your child is ready.
1st Grade Learning Games

Price: Free with in-app purchases
iOS App Store / Google Play Store
Here is a collection of 18 games that teach lessons across the first grade curriculum. Kids will be reading, spelling, doing math, and more in no time with this app. They can explore patterns, categorization, and other preacademics while they work on the school skills at the same time. They can play Bingo and other traditional games or try something totally new.
The app is free to download and includes 2 games unlocked. An in-app purchase of $4.99 will unlock the rest. There is also a monthly subscription option.
Counting Coins

Price: Free
Kids will learn to identify coins, match them to their values, and count them in this beginning app. The app has four modes, so you can adjust it to suit your child's current needs. It's from the publishers at K12, so it's comprehensive and no nonsense. It's a great review or practice app for kids who are learning to work with money.
Peter Pig's Money Counter

Price: Free
This cute app offers practice with identifying coins and counting them at three different levels. It even has a level where kids can tell which amount of coins is greater. It also teaches concepts about saving money, so kids will be learning a positive lesson along the way. Each quick and correct completion of a game "pays off" in virtual currency that kids can use to buy accessories and background scenes for Peter.
The app is fun!
Baby Bear First Grade Games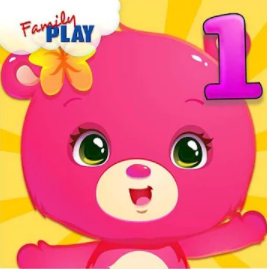 Price: Free with in-app purchases
Hang onto your hats, first graders! This app includes math, reading, vocabulary and more.  And all of them are in engaging game formats that will keep kids entertained while they learn. There are a dozen games all together, hosted by adorable teddy bears that will motivate kids to do their very best.
Parents will be pleased to see simple, fun reward animations for correct answers and gentle correction when the child makes mistakes. There's also a "leader board" to keep parents in the loop about progress. In-app purchases of ninety-nine cents per item are required to unlock all content.
SplashLearn: Kids Learning App
Price: Free with in-app purchases, subscriptions required
iOS App Store / Google Play Store
SplashLearn offers a wealth of content that will grow with your child. You can choose math games, reading activities, or a mix of the two. All together, there are over 4,000 activities available covering grades preschool through grade 5. The app is personalized, offering a daily learning plan with goals for the young users. First graders can focus on counting, simple math operations, beginning fractions, coins and more in math, while in reading the skills move from alphabet and phonics through beginning spelling, sight words, and comprehension.
This app requires a subscription for the areas of study. Single subjects cost $8.00 per month or $60.00 annually. Both reading and math can be opened up in a single subscription for $12.00 per month or $90.00 annually.
Reading Eggs – Learn to Read
Price: Free with in-app purchases for subscription
iOS App Store / Google Play Store
Reading Eggs is a subscription-based app that will help children learn to read. The games and skills reach down to preschoolers and all the way up to upper elementary, but the bulk are right where your first grader needs them- beginning phonics and comprehension. There are a few math games thrown in, and parents can also access a treasure house of printable worksheets that are intended as companions for the app.
The app has a one-month free trial. A monthly subscription costs $9.99. There is an annual option, as well, for $69.99.
Tappity: K-5 Science for Kids
Price: Free with in-app subscription purchase required
This app offers over 200 engaging science lessons that are perfect for young elementary students. It includes interactive videos, game activities, a personal guide, and much more. The activities in the app cover outer space, life sciences, physical sciences, and Earth science, which are exactly what your child should be learning about in the school or homeschool curriculum. It makes an outstanding supplement!
The app includes a 14-day free trial. A monthly subscription is available for $14.99. Annual subscriptions cost $74.99 and a lifetime option costs $149.99.
Sushi Monster
Price: Free
All kids need to learn their math facts, and learn them well! Sushi Monster is a great practice app from the developers at Houghton Mifflin Harcourt, a large educational publishing house. The app covers first addition, then multiplication math facts in formats that promote both speed and accuracy. It's got 12 levels with four rounds each, and kids can replay rounds when needed with new numbers. See how far they can get!
The app is "gamified," meaning that it's full of trophies, levels, and unlocking ever tougher challenges. It's also very child-friendly and kid-safe, with no in-app purchases or outside advertisements.
Story Creator – Easy Story Book Maker for Kids
Price: Free
Kids can create beautiful multi-media books with ease with this app. It's capable of adding in video, audio recordings, pictures, and other content from your device or a selection of social media / photo accounts like Flickr. You can even highlight text to support beginning readers. Share the stories with ease, and even transfer them from one device to another.
You can add as many stories as you wish. Back the stories up online so kids can't accidentally delete them. Add your own voice recorded narrative. This app is perfect for young children and even those with special needs.
Mitra
Price: Free
While this app isn't particularly designed for the very young, it has a lot of value for parents who are helping little ones learn to become more mindful and aware of their own feelings. Use it together as a family to help everyone learn and grow emotionally. Together you can build emotional awareness and see the connections between feelings and core values. Help your kids build the habits like daily reflection that will set them on a balanced path through life.
Cyberchase Shape Quest
Price: Free
iOS App Store / Google Play Store
You'll need to use this one on a tablet with a rear-facing camera. There are three games that will help first graders develop geometry and spatial reasoning skills. The app includes 80 different puzzles in 5 different environments. One game even features augmented reality to help keep the kids thinking and engaged with the game.
This app is a companion to the PBS Cyberchase Show and is part of a collection of educational apps from our friends at PBS.