Augmented reality has come a long, long way in the past few years. Developers have been hard at work to make the most of this exciting technology, and have brought countless games to the table. Here are some that really stand out!
Games for Younger Kids
Narrator AR
Katrina Youdale – Free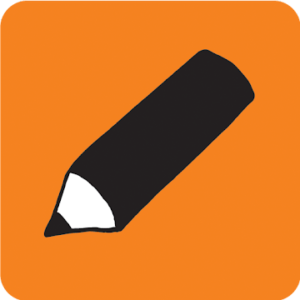 Learning to write has never been this much fun! Narrator AR brings an AR twist to a vital preschool skill- learning to write names and common words. Download the app, then head over to the developers' website. You can put any name or other word your child would like to write into their system, and then print out as many copies as you want for them to trace and write. The cool part is that once they are done, they can snap a shot of their work that includes the QR code generated on the website and that's when all the action happens. Talk about a reward for a job well done!
Narrator AR is perfect for preschoolers who are learning to write their names or other simple words. It's engaging, interactive, and easy to use, and it encourages kids to actually write with paper and pencil, which educators know is a crucial part of the process.
See it on the App Store / Find it on Google Play 
ColorQuest AR
StayHealthy – Free with in-app purchases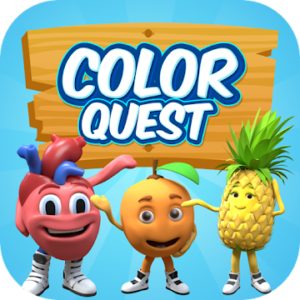 Kids can color their favorite characters while they learn about healthy lifestyle choices and nutrition facts. Once finished, their creation will come to life in glorious AR fashion. It's fascinating to watch and will really help the health lessons stick in young minds.
If you are a member of an assortment of healthy lifestyle organizations, premium access is yours at no additional charge. If not, the in-app purchases range from $1.99 to unlock single topics, or $14.99 annually to grab everything.
See it on the App Store  / Find it on Google Play
EKid
EKid Studio – Free with in-app purchases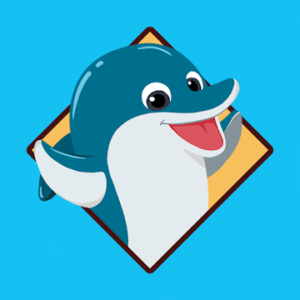 Ekid offers your young child a look at the world through an augmented reality lens. Kids will learn through AR flashcards as they discover mammals, transportation, insects, and much, much more. The topics are common units in most early childhood programs, so will feel very familiar and match up well with school information.
In-app purchases for this free app add content, and range from ninety-nine cents to $3.99. Kids will love getting a digital look at the world around them, and will learn a lot of basic facts and information.
See it on the App Store / Find it on Google Play
Quiver – 3D Colouring App
QuiverVision Limited – Free with in-app purchases
Here's another offering that allows kids to color to their hearts' content, and then peek at their creation through the phone's camera lens to see it come to life. The app requires you to download and print special coloring sheets. Once the kids have colored a sheet, simply view it through the phone's camera to see the creation come to life in amazing animation and colors.
The app is free to download and use. In-app purchases ranging from $2.49 to $4.99 give access to premium content.
See it on the App Store / Find it on Google Play
Festive People AR
Ilistu, ltd. – Free with in-app purchases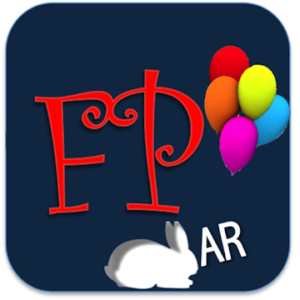 This awesome app puts users right in the midst of some common celebrations world-wide. The free version provides all the fun of Easter with an egg-hunt, rabbits, and more. Other holidays are available as in-app purchases, including Christmas, Halloween, Diwali, and more. Set up the celebration in your home or yard, and watch the fun unfold.
Parents can help kids create a gif of the celebration to share with friends and family. Additional holidays cost $2.99 each as in-app purchases.
See it on the App Store / Find it on Google Play
Pico Christmas Tree AR
Boleslaw Walczyk – Free with in-app purchases
Everyone who knows a young child knows that they can become obsessed with the things they enjoy. Christmas is high on that list for many preschoolers, and many moms and dads have had to explain over and over again that Christmas only comes once each year. Now little ones can enjoy the magic of a holiday tree year round, in any room of the house that they wish!
Pico Christmas Tree AR allows kids to "put up" their very own tree and decorate it as they wish from a vast collection of virtual ornaments. There's an auto-decorate feature if they're not feeling creative. The app can share the fun with other augmented devices in the same room, so you can make it a family affair, and you can take a picture of your creation to share with family and friends who can't be part of the fun directly. An in-app purchase of $1.99 unlocks all of the magic.
If your youngster is into dinosaurs and archeology, be sure to check out the review of ARcheology-Dig Into History. You'll find learning is so much fun, it SHOULD be considered a game!
Games for Older Players
Ingress Prime
Niantic, Inc. – Free with in-app purchases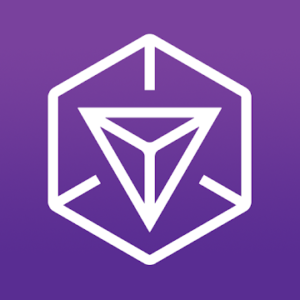 Kids ages thirteen and up will love the adventure of Ingress Prime. As an Agent, players will find themselves immersed in a shadowy world where two factions battle for power. The app makes masterful use of local points of interest and players can get loads of information about the real world as they work to save the universe in the game.
This app does allow players to communicate and socialize with others in the game. There are also in-app purchases of in-game currency for prices between ninety-nine cents and $99.99. It's definitely for older players, but would be loads of fun for teens who are ready to use multi-player games.
See it on the App Store / Find it on Google Play 
Five Nights At Freddy's AR: Special Delivery
Illumix, Inc. – Free with in-app purchases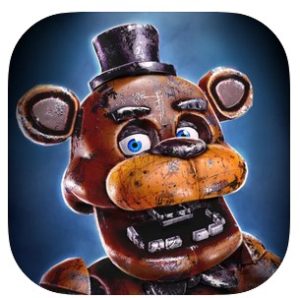 If your teen is up for an unsettling, and perhaps downright scary AR game, this one is just the ticket. It's got a whopping 4.4 star rating and is ranked in the top 100 Adventure Games on the App Store. This app is part of a larger series about malfunctioning animatronic robots that are threatening the entire world, so if your teen enjoys it, there's plenty more where this came from.
Five Nights At Freddy's may well give players goosebumps and the willies. I mean, who REALLY likes those stilted, weird characters? And to have them malfunction and go crazy…? Be sure your teens aren't prone to nightmares before they play this one! There are various in-app purchases to enhance game play, ranging from $2.99 to $11.99 each.
AR-Treasure Hunt
XD Productions – Free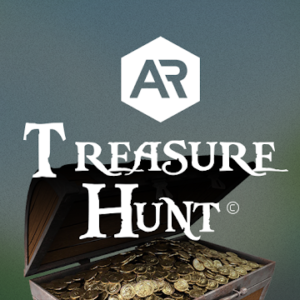 This app is a free companion to AR-Treasure Hunt Cards, available at www.xdprod.com/artreasurehunt.  Hide the cards in the play space (indoors or out!) and then players scan the area with their devices. When a card is located, the AR functions kick in to reveal treasures, backgrounds, and more.
Decks of cards are available on the developers' website for approximately 10 Euros. With themes such as pirates, outer space, and the wild west, it's hard to go wrong for tweens who hanker for some augmented reality games for kids.
SpecTrek Light
Games4All – Free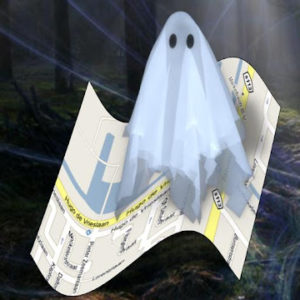 Halloween is always just a click away with this spooky AR offering. Kids can go "ghost hunting" to their hearts' content. The app uses a combination of GPS technology and AR capabilities to make virtual ghosts that can be found with some effort. It has multiple levels, and also is gamified- players earn badges, complete missions, and more.
This game gives a whole new dimension to the popular geocache games that families have enjoyed for years. Give it a try!
Neyon Clash
Reaktor Berlin GmbH – Free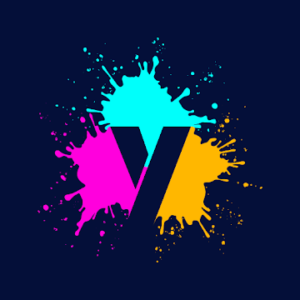 Parents should be aware that this active and somewhat violent shoot-em-up AR game is rated for children 17 and up. The app uses AR effects to transport players to a futuristic world of mayhem, where only the fittest survive. It is a multi-player game, too, so players are in touch with other players over their devices.
This action game takes the concepts of paintball to a whole new level. It's fast-paced and exciting, and it gets players outside for the action.
See it on the App Store / Find it on Google Play
Egg, Inc.
Auxbrain, Inc. – Free with in-app purchases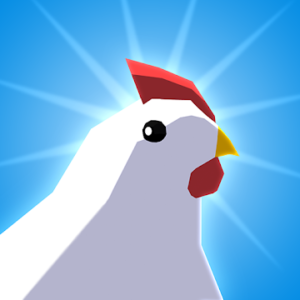 This simulation game puts you in charge of an egg-production farm IN YOUR LIVING ROOM! Cash in as you run your business, trying to produce and sell as many eggs as possible. Invest in your business, balance your resources, and keep your business afloat with wise decisions.
In-game currency and other game enhancements are available as in-app purchases ranging in price from $2.99 to $19.99. The game is simple enough for young elementary kids and has enough strategy and nuance to tickle older players, too. Get cracking!
See it on the App Store/ Find it on Google Play
You can find even more augmented reality app options in the article, 8 Awesome Augmented Reality Apps for Kids! Check it out!