Outer space holds a fascination for kids that is hard to beat. The possibilities for gaming fun are nearly endless, from informative learning games that will foster a love of astronomy to exciting, action-packed alien invasions. Check out all of the fun we found for your young space adventurer to explore!
For Young Space Adventurers
Dr. Panda Space
Dr. Panda Ltd – $3.99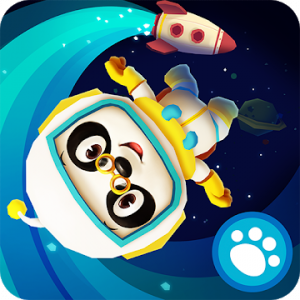 Little ones will love customizing their very own space ship and then heading out to explore the depths of space. There is freedom to set their own course and explore the things that interest them. Along the way, they will find friendly aliens in need of their help. Kids can help fix a space ship, repair a satellite, navigate a meteor maze, and more. They can experiment and play with plants, aliens, and more.
This app is part of the fabulous Dr. Panda series of apps, and parents can rest assured that it is safe and wonderful for little players. There are no outside advertisements or in-app purchases to worry about, and kids can safely play as much as parents want them too.
Preschool Galaxy – Learn Shapes, Colors, Numbers, and Letters
Education Galaxy – Free with in-app purchases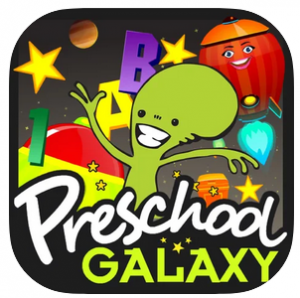 Little ones will be enthralled by space aliens, rockets, and more as they learn the basics needed for a successful foundation. There are 16 activities in the free version of the app, with a total of 29 available with in-app purchases. Kids will learn about colors, shapes, numbers, letters, and even beginning spelling and reading.
In-app purchases include new games for ninety-nine cents each, or a master pass to all 29 games for $2.99. If your child loves all things space, then this is the app to check out.
Rockets and Planets for Babies
David Herrera Solas – Free
Here's a sweet and simple little app that toddlers and younger preschool kids will love. All they need to do is assemble the rocket ship (using size, shape and matching skills) and they're off!  The app includes 5 planets to explore, with gentle and engaging fun on each one. Reviewers are particularly impressed with the relaxing music, as well as the artwork.
This app is free to download, and contains no advertisements or in-app purchases. It's safe for your little one, and fun, too!
For Space-Faring School-Agers
Thinkrolls: Space
Avokiddo – $3.99
This kid-friendly puzzle game takes the lovable Thinkrolls characters into the Great Beyond. Oddball aliens will make players smile as they solve increasingly challenging logic and thinking puzzles. Look out for the goo monsters, cheese monsters, and soprano aliens. There are also vanishing rainbow bridges, plasma fields, and other galactic challenges to face.
The app has two difficulty modes, unlimited, penalty-free retries, and over 200 levels. Check out the in-depth review on Best Apps for Kids HERE.
CosmoLands | Free Edition
Ivan Matskevich – Free
Kids can step into the role of space-faring explorer in this cool game. Travel from planet to planet to search for resources. Each planet has its own unique population, too, and you will need to figure out if they are a danger and if so, how to protect yourself. On some planets, you can even create objects to help yourself get along. Can you find the resources to make what you need to survive?
This free app has a lot of survival elements- players need to find resources to get oxygen, to move around, and otherwise accomplish game goals. There are hazards, both alien and otherwise, to be avoided, and you can grow and gain levels.
Mathmateer
Freecloud Design, Inc. – $1.99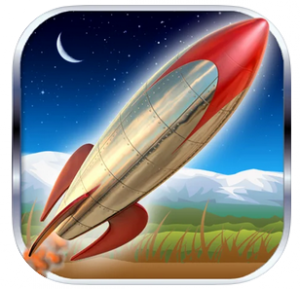 Start off by building your own rocket using basic math skills, which is fun and challenging enough, but then shoot off into space to explore 56 different math missions. Earn bronze, silver, and gold stars for performance, beat your old high score, and take on some of math's most important concepts. Missions range from odd-even challenges all the way up to square roots, and include needed computation practice, fractions, time, money, patterns, and geometry among other topics.
Mathmateer is one of the best space-themed learning games out there, so you won't want to miss it. It's comprehensive and fun!
You can also grab more math learning space fun with ZapZap Math! Check out the full review on Best Apps for Kids HERE.
For Adventurous Teens
Simple Rockets 2
Jundroo, LLC – $4.99
This app will appeal to budding engineers as they can build rockets, airplanes, rovers, and then use them to explore highly-detailed 3D planets. There are 17 different challenges to put creations to the test. Make choices about engines, stages, and other accessories and snap them into place or start completely from scratch to design something completely unique and perfect for the job. Players can also reshape and resize the given parts to make them fit exactly the way that they want.
And once the machine is designed, there is detailed information available about drag, speed, and other factors that affect its utility. Then, try out the creation on another world to see if it does what it's supposed to do.
Space Borders: Alien Encounter
Amasis Brauch – Ninety-nine cents with in-app purchases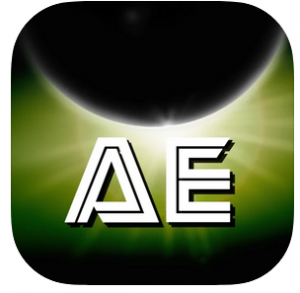 Put your teen in command of massive star ships in the middle of a galactic war against a powerful alien force! This app is full of action and adventure (it's rated 12+ for frequent or intense cartoon/fantasy violence and infrequent/mild horror and fear themes). The special effects are "out of this world" good, and teens will feel like they are right in the middle of the action. Players have control of the world, gathering resources, creating custom formations of fighters, and coordinating vast fleets of vessels.
This game has a whopping 4.7 star rating, with an overwhelming majority of 5-star reviews. There are limited in-app purchases available, most notably "Conquest Mode" for ninety-nine cents. If your teen has designs on universal conquest, this is the app to check out.
Mines of Mars Zero
Crescent Moon Games – Free with in-app purchases
Mines of Mars Zero is a story-based adventure game that challenges players to build and operate a mining operation on Mars. Players will find a different adventure each time they play, and will encounter different enemies, new creatures and plants, secret weapons, and much more. The app also includes three mini-games and some side adventures.
This app is ad-supported, and there are in-app purchases available. Players can remove the ads for $2.00, or purchase additional play packages and expansions for prices between $2.99 and $12.99.  The app is rated 12+ for infrequent incidences of realistic and fantasy violence.
Star Trek Timelines
Tilting Point Media – Free with in-app purchases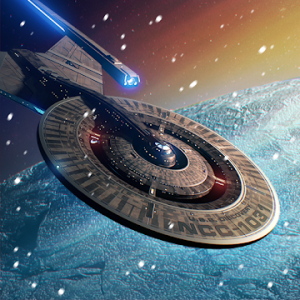 Here is one of many titles that play off of classic science fiction franchises. Join Star Fleet in this strategy-based role playing app. Head out on an adventure that melds characters, ships, villains and more from all of the Star Trek universe. As captain of your own starship, you can create your dream team of officers from all of the stories. You can even play as your favorite character if you wish. This app even includes ships and characters from the latest series, Star Trek Discovery.
The app is rated 17+ for frequent violence, fear, and mature or suggestive themes, as well as infrequent profanity, nudity, gambling, drug and alcohol use, and violence, so parents will want to be cautious and preview before allowing younger teens to play. In app purchases range from $3.99 to $99.99 (for a shipment of Dilithium!!).
For Budding Astronomers of All Ages
Solar Family by BubbleBud Kids
Dweek Studios – Free with in-app purchases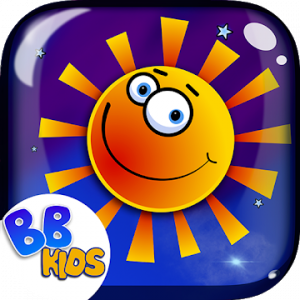 Preschoolers can begin their interplanetary learning with over 30 interactive activities designed just for them. Kids will learn about the planets, solar system, and even comets while playing these professionally-designed games. In addition to learning facts, they will get a healthy dose of concepts as they learn about orbits, the formation of planets and much more in age-appropriate ways.
This app is free to download, and includes options for in-app purchases. Ads can be removed for ninety-nine cents, and there are three additional games available for $1.99 each. All in all, it's a worthwhile app if you want your young child to spend some productive digital time.
Star Walk Kids: Astronomy Game
Vito Technology, Inc. – Free with in-app purchases
Elementary-aged kids can learn the basics of astronomy in this entertaining game about outer space. Its child-friendly design and carefully selected activities will engage kids without feeling overwhelming. The animated shorts will appeal to kids while teaching them the basics of the solar system and other space concepts. The app even includes short tests to help kids see what they've learned.
This app is free to download, and has some optional in-app purchases. It is ad-supported, but you can opt to remove the ads through one of the purchase options for ninety-nine cents.
NASA
NASA – Free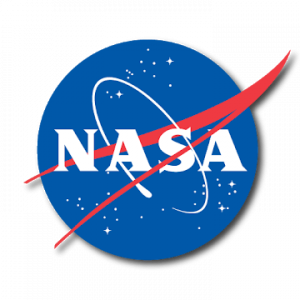 Here's the perfect companion for children of all ages who are interested in outer space. This is the official app from NASA itself, and it's chock full of beautiful photography, videos, podcasts, and even a feed from live NASA TV. Kids can get up-to-the-minute mission information, plan for upcoming sighting opportunities, tune in to satellite and International Space Station status reports, and much, much more.
There's something here for everyone, from the youngest hobbyist to elementary kids who are writing school reports to teens considering a career in the field. The app has the most information possible packed into a free and easy-to-navigate app.